Department News
Stocking Hall's renovation marked with ice cream scoops
Instead of shovels and dirt, this groundbreaking marked the occasion with scoops and ice cream, fitting symbols for the $105 million project to renovate Stocking Hall -- the 88-year-old home of the Cornell Department of Food Science.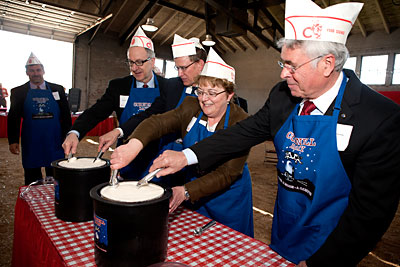 Cornell President David Skorton and Kathryn Boor, dean of the College of Agriculture and Life Sciences, along with New York State Commissioner of Agriculture and Markets Darrel Aubertine and more than 150 students, faculty and stakeholders celebrated the groundbreaking May 9 at the Cornell Livestock Pavilion.
The renovation project will replace the iconic Cornell Dairy Bar and Plant with a new building featuring a glass-fronted dairy plant, a "wine library" and teaching winery, research laboratories and a center for sensory evaluation of foods. From an observation balcony above the Dairy Plant, visitors will have a bird's-eye view as milk from the Cornell dairy farm is transformed into ice cream, cheese and yogurt for sale to the Cornell community.
The new facility will also allow Cornell to expand training for state food and dairy inspectors, farmers, wine makers and food processors, and for Cornell researchers to be more competitive for research funds from federal and state agencies and private companies.
"The Stocking Hall renovation project presents a timely opportunity for Cornell's nationally top-ranked food science program to provide the campus and Ithaca communities with a better understanding of how food moves from the field to the marketplace," said Boor, a food scientist who formerly served as chair of the department. "Citizens around the globe are increasingly interested in where their food comes from and how it is handled, processed and marketed."
The project is funded by the State University of New York Construction Fund. Demolition of the middle "runway" portion of Stocking Hall along Tower Road began April 5, and construction will be completed in 2014.